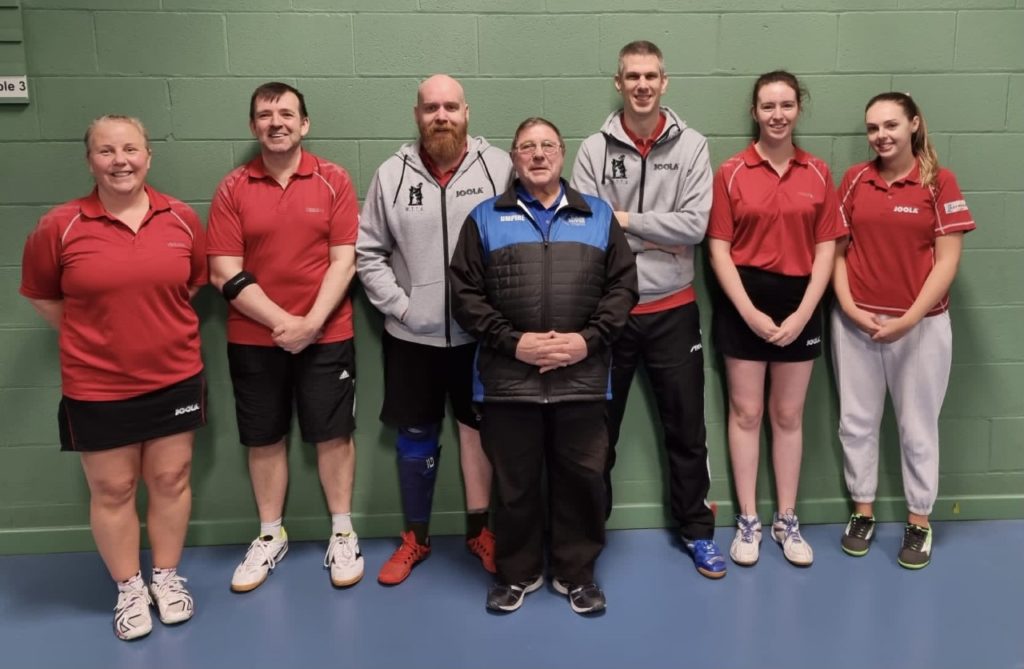 It had been over two years since the Warwickshire County 1st team competed in the County Championships. The return took place on Saturday 27th and Sunday 28th November at Draycott Table Tennis Centre. Fortunately, despite slightly snowy conditions on the Saturday morning, the team representatives Ben Willson, Tony West, Ryan Stockham, Kate Hughes, and Lisa Rinnhofer all arrived safely!
Derbyshire: draw 5-5
Derbyshire, who had been relegated from the Premier Division were Warwickshire's first match. There were several close matches, including Kate v Connie Dumelow, with Kate fighting back from 0-5 down in the deciding set to win 11-9. Lisa beat Jasmin Coker 3-1. Ben Willson had a tough first match against David Arrowsmith losing 0-3 to the experienced attacking player. David also beat Tony West 3-0, who had previously lost 9-11 in the 5th set to Rowan Jones, with all sets being won and lost at deuce. Ryan Stockham beat Jones 3-0, which combined with reverse wins for Kate against Coker 3-0, and Lisa against Dumelow 3-1, secured a draw for the Bears. Jake Meikle won both matches for Derbyshire against Willson and Stockham.
Warwickshire 2: draw 5-5
The two Warwickshire teams had not faced one another in the last 10 years. With the players regularly facing one another in local league matches, this fixture was always going to be a bit of a pressurised situation for all concerned. Ben Willson lost 1-3 to both Ryan Lines and Dave Ramsey, with great rallies between the attacking players of Lines and Ramsey, against the defensive style of Willson. Tony West was once again very unlucky to lose twice in the 5th set, to Lines and Jack Green. Ryan Stockham had secured a 2-0 lead against Ramsey only to miss out 10-12 in the 5th. Stockham bounced back from this loss to beat Jack Green 3-0. Lisa coped successfully with the pressure of facing younger sister Sophie winning 3-0 and then backed this up with a 3-1 win against Dawn Sagoo. Kate beat Dawn 3-0, but then had a tough battle against Sophie eventually winning 11-2, 14-12, 9-11, 13-11. Sophie played a great match against Kate, dominating many rallies with her backhand topspin and counter topspin shots. The overall result could have gone either way, therefore the Warwickshire first team was pleased to have secured another point.
Lancashire: loss 3-7
Ben Willson secured his first win against Tony Whelan 3-1 (11-6, 9-11, 11-7, 11-4), however, missed out against Pawel Orzechowski 1-3. Orzechowski beat Tony West 3-0, who also missed out 9-11 in the 5th set to Lancashire's number 3, Suhaib Abdullah. Abdullah beat Ryan Stockham 3-2, with the final set being 11-9 in the Lancashire's favour. Ryan was on the losing end of another 5-set match against Whelan. Lisa and Kate both lost to Bethany Ellis. Lisa successfully beat Amy Hutchins 3-0, whilst Kate lost 1-3.
Lincolnshire: loss 3-7
Lincolnshire, who finished the weekend as Champions of the Division fielded a strong team, including ex-England International Gareth Herbert, Sean Ward, Liam Rowson, Darcie Proud and Lesley Keast. Herbert beat Ben and Tony 3-0. Rowson beat Tony West 3-1 and Ryan Stockham 3-2; of which both matches could have gone either way, and unfortunately went against Warwickshire. Sean Ward beat Stockham 3-1. Ben Willson successfully beat Sean Ward, 11-9, 11-7, 11-9, demonstrating his consistent defensive skills against the powerful attacker. Olivia Fletcher was playing up from the second team, and despite losing 0-3 played well against both Darcie and Lesley. Kate had another battle against Lesley, whom she had not beaten in over 6 years, and fought back from 8-10 down in the 5th to win 7-11, 12-10, 4-11, 11-6, 12-10. This was followed up by a surprising 3-0 win (11-6, 11-7, 11-3) against Darcie Proud, a former England Junior.
Northumberland: draw 5-5
Warwickshire faced another team with exceptionally strong male players, including Andy Wilkinson, Adam Webster, and Ben Savage from Northumberland. Tony West secured his first win against Ben Savage 3-0 (11-9, 11-9, 11-9), which proved a crucial win towards the overall team score. Unfortunately, despite some competitive games, the remaining men's matches went in favour of Northumberland. However, a draw was secured with two wins each from Lisa Rinnhofer and Kate Hughes both beating Christine Burke 3-1, and Lynsey Storey 3-0.
Cheshire 1: loss 3-7
A strong Cheshire team beat the Warwickshire team 7-3. Ben Willson missed out 8-11 in the 5th set to Joe Killoran, whilst Tony West lost 6-11 in the deciding set to Kevin Dolder. The other men's matches went Cheshire's way, including two wins for Connor Whitehead. Lisa Rinnhofer lost 1-3 to Claire Peers, but secured a 3-1 against Annie Hudson. Kate Hughes also beat Hudson 3-1, and battled in her final match of the weekend to beat Peers 3-1.
With three draws, and three losses, the Warwickshire 1st team finished in 6th place, just ahead of the Warwickshire 2nd team on a greater sets difference.
Individual results: Ben Willson 2/12; Tony West 1/12; Ryan Stockham 3/12; Kate Hughes 10/12; Lisa Rinnhofer 8/10; Olivia Fletcher 0/2.
A huge thank you to all the players who represented the team over the weekend, supporting one another throughout every match. Also, I would like to thank Inky Moss for umpiring for Warwickshire, taking significant pressure off the players. Finally, thank you to Michael and Nicky Rinnhofer, and Mark Jackson for their support and encouragement.
Kate Hughes – Acting Captain (December 2021).