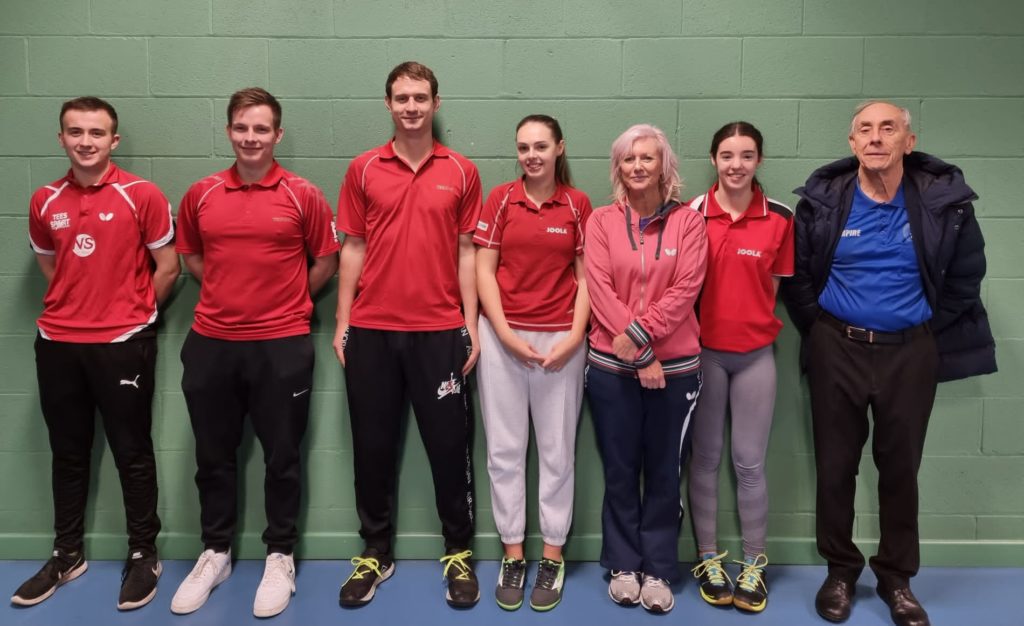 Lincolnshire: loss 1-9
Warwickshire 2 started the day with a tough match-up against Lincolnshire, who fielded former England No.1 Gareth Herbert, alongside Sean Ward, Liam Rowson, Darcie Proud and Lesley Keast.
The Warwickshire duo of Jack Green & David Ramsey both started the day with losses, as did Sophie Rinnhofer and Olivia Fletcher, quickly followed by Ryan Lines losing to Gareth to put them 5-0 down at the half-way point. Things didn't improve much from there, with the only win of the day coming from Jack Green, who beat Liam Rowson in 4 sets.
Warwickshire 1: draw 5-5
Next up was the derby match between Warwickshire 1 & Warwickshire 2. A close battle throughout. Jack Green beat Tony West in 5 sets, and Ryan Stockham vs David Ramsey was a game that didn't disappoint with David coming back from 2-0 down to take it 12-10 in the fifth. Lisa Rinnhofer beat Sophie 3-0, and Kate Hughes beat Dawn Sagoo to level the match at 2-2. Ryan Lines started the match with a 4-set win against Ben Willson, giving the 2nd team a 3-2 lead. This was levelled one again with a 3-0 win for Ryan Stockham against Jack Green. As the anticipation of a photo-finish reached a climax, Lisa won again this time beating Dawn Sagoo in 4, whilst Kate Hughes won again against Sophie Rinnhofer to make it 5-3 to the first team. Ryan Lines won a closely fought match in 5 sets against Tony West, whilst David Ramsey even up the final match score with a 3-1 win against Ben Willson.
Northumberland: loss 4-6
Next up for Warwickshire 2, was Northumberland. David Ramsey beat Ben Savage 11-9 in the fifth, and Jack Green lost to Adam Webster. Olivia Fletcher then beat Lynsey Storey while on the other table, Dawn Sagoo lost to Christine Burke. In one of the games of the weekend, Ryan Lines went 2-0 up against top 50 player Graeme Barella before finally succumbing 6-11 in the fifth after a well-fought comeback from Graeme. Jack Green then lost to Ben Savage, putting Warwickshire 4-2 down. Dawn Sagoo then gave Warwickshire 2 a fighting chance by beating Lynsey Storey, but unfortunately it wasn't to be. The final games including a defeat for Olivia Fletcher at the hands of Christine Burke and a defeat for David Ramsey at the hands of Graeme Barella. Ryan Lines salvaged another point at the end defeating Adam Webster in 5 to make the final score 6-4 to Northumberland.
Cheshire: loss 4-6
Next up was another incredibly close defeat for Warwickshire 2, falling 6-4 again to Cheshire 1. Some notable results were Dawn Sagoo putting in a fantastic performance against Niamh Scarborough, winning in 5. Ryan Lines had a strong win against Joe Killoran. Sophie Rinnhofer with a big win against Annie Hudson, and finally David Ramsey beating Kim Fung Chan in the final game.
Derbyshire: loss 1-9
On the Sunday morning, Warwickshire 2 were a little unlucky to lose 1-9 at the hands of Derbyshire, with a whopping 7 of the 10 games going to 5 ends, with Warwickshire 2 taking just one win from those 7 matches which was Sophie Rinnhofer beating Connie Dunelow.
Lancashire: won 7-3
The final match of the weekend was Warwickshire 2 up against Lancashire, who this time were missing their number 1 player, Pawel Orzechowski. Warwickshire 2 did the business regardless, taking a 7-3 victory with wins for Jack Green and Ryan Lines over Sahib Abdullah, Sophie Rinnhofer over Amy Hutchings, and Ryan Lines and David Ramsey both beat Tony Whelan.
Thank you to Alan Buttle for supporting the team with umpiring, and support from Michael and Nicky Rinnhofer, Nilton Green, Mark Jackson and Duncan Ramsey.
Dave Ramsey