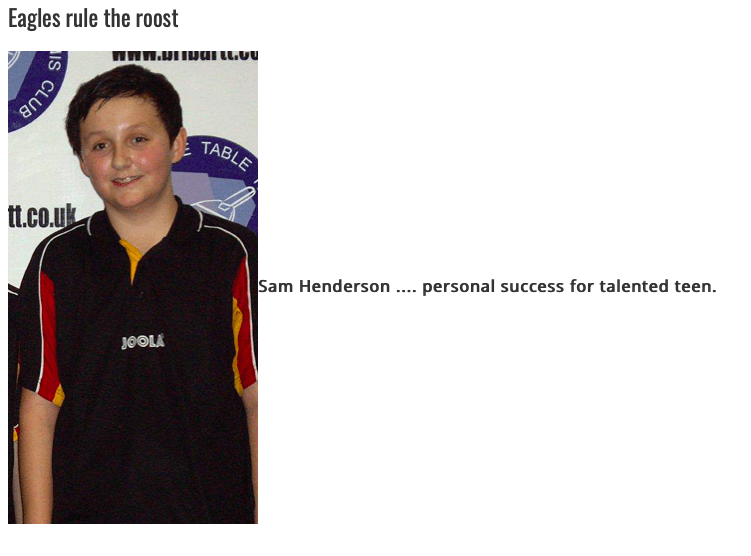 EAGLES RULE THE ROOST. – A Match report by Neil Wheatley.
Chiefs 4, Eagles 6.
With all 6 teams seeking to claim the Division 2 bragging rights, every match between them has seen spectators cramming the room to watch the enthralling battles. In most cases they have witnessed some tense matches and last night's table topping encounter between Chiefs and Eagles proved no exception – with a crowd as diverse and colourful, which included , at various times, Eddie Lynn , Ben Willson , Brian Morris and Lee Holtham.
With competitors well briefed on their behaviour and correct serving by resident celebrity umpire Inky Moss, the match commenced with a lively encounter between the ever improving Sam Henderson and Mike Evetts, Sam's speed around the table and steady counter-hitting taking him to a comfortable 3-0 win.
Parity was quickly restored by the evergreen Mr Bernard Oliver, who was made to work hard by Mike Credland, but never looked like losing a game.
Sets 3 and 4 proved pivotal to the whole match, firstly with long pimple combo bat specialists, Neil Wheatley and Dean Hicks, pitched against each other. A 5 game set was, perhaps inevitable, but Dean seemed more comfortable with his new Up Up Up rubber, even though it was his quick hitting forehand that won many decisive points. 11-9 in the 5th, was still rather close though. A similar 5 game battle between the two Mikes then ensued. Sadly for Chiefs, not only was Mike Credland also on the wrong end of an 11-9 final game, but his battle left him with a back strain, which prompted his withdrawal from the rest of the match. We wish him a speedy recovery.
Mike's injury forced Chiefs to change their unbeaten doubles partnership, but after a shaky opening game against the Oliver/Hicks combo, Neil fitted nicely into the partnership with Sam and they won the next 3.
An agreed change of order, now pitched Sam against Bernard – a battle between two likely end of season individual title contenders, perhaps? The age difference proved decisive, with Sam counter hitting pretty well all that 'The Rottweiler' threw at him, to record a 3-1 win, the only set Sam was to lose all evening.
With the result still in doubt, another close encounter took place, this time between Neil and Mike. With a 10-2 start, Mike looked clear favourite to win the opening game, but somehow Neil managed to level the score and had game points before over cooking a drive to lose 14-12. His failure left him more than a little unsettled and Mike's steady play took him to 2-0. Could Neil stage a come-back? Matching Mike's steadiness, and in full defensive mode, the answer was shown by his 11-2 third game, but he could not sustain this effort and Mike clinched the final fourth set 11-8.
Full of confidence, Sam kept control of game 8, and proved that he is learning to cope with unusual styles and rubbers, with a straight game defeat of Dean Hicks. 5-4.
Could Chiefs scrape a draw? Obviously Bernard felt 'No', sailing into Neil with gusto to end a splendid match with a straight game victory.
Great fun for all who played and watched, and with tea and cakes courtesy of Pat Oliver, bless her, what more could you wish for?