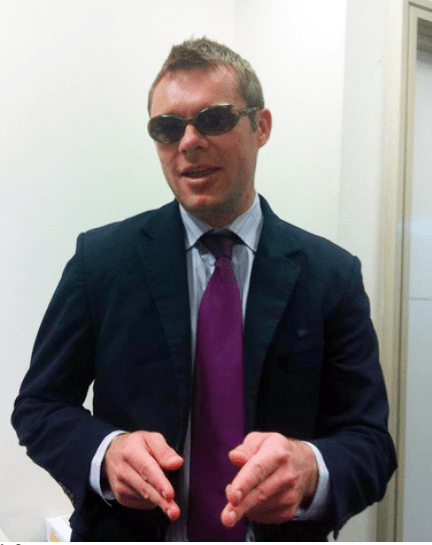 Colebridge Aces v WCC Bats: Hewitt back in action!
The Aces played WCC Bats this week ( wc Nov 12th – Ed. ) , away from home, with Alan Hewitt making his return to league matches after several months out due to a nasty knee injury he sustained whilst playing British League at the start of the season.
The match commenced with Ian Ferguson comfortably beating Nilton Green 11-3, 12-10, 11-9 and despite Nilton's improvement in the 2nd and 3rd ends, Ferguson was never really troubled and stepped up a gear when it was required. Kate Hughes then took on Warwickshire veteran player Simon Griew and despite taking the first end 11-6 having gone 7-0 up, it was the County vet who remained calm and used his vast experience to turn the match around in the next three sets. Hughes who was making a concerted effort to remain focussed following on from the previous weeks meltdown, kept her composure and was unlucky to lose the next three sets, as she displayed the aggressive topspin game that has taken the Warwickshire number 2 lady to 23 in England.
Alan Hewitt then made his long awaited 2012 debut for the Aces and showed from the first point (a classy forehand fade winner) just why he was a regular in the Warwickshire team along side Ferguson for so many years. His opponent Murray Stevenson showed some wonderful attacking forehands of his own, but it was the variety of angles created from Hewitt that baffled his opponent and the Aces star ran out a 3-1 winner (11-9, 11-7, 12-10), to secure his first win of the season and put Aces 2-1 up.
Aces number one Ferguson beat Griew 11-4, 11-7, 11-4 and later in the evening also beat Stevenson 9, 5, 5, to continue his 100% record so far in the league, with a trademark display of deft, sublime touch, allied with speed and power from both his backhand and forehand wings.
Hughes had another topsy turvy encounter, this time against Stevenson losing 7-11, 11-3, 8-11, 11-8, 6-11, yet recovered for a more positive third match against Green winning 10, 4, 4 showing that patience and inner calm are essential for her to play her best game and maximise her potential. It was a fantastic display against Green, one of the league's most awkward players, due to his quirky, unorthodox style, but Hughes stuck to her task and was sharp throughout, giving Green no time on the ball whatsoever.
Alan had his own battle against Green in five sets, eventually prevailing with a comfortable 11-6 final set win and only lost out to Griew in 4 sets, two of which were deuce. Considering Hewitt has been out for so long, his comeback was one to be admired, displaying a majestic array of forehand winners that are created from sometimes seemingly impossible situations and angles.
The closest match of the night was to be the doubles, involving Fergie and Hewitt against Griew and Stevenson. The Bats players won the first end 15-13 despite an impressive comeback from the Aces pair. The Aces then won the second and third to go 2-1 up, then lost the 4th 9-11. The fifth started well for the Aces only for the Bats pair to comeback and have a match point at 10-9. The reliable and increasingly gutsy Ferguson hit a blinding service return winner to level the score at 10-10 and then went onto win 12-10.
The overall 7-3 win for the Aces, was a good result from a hard fought encounter that saw both sides play some good standard table tennis. The win keeps the Aces in second place behind Rugby, but with two fixtures against Rugby to come,and Kate Hughes showing why she is a class act and Fergie in improving early season form, the league title is still a possibility.
Congratulations to Alan Hewitt on a successful return for Colebridge. With some crucial crunch matches on the horizon, the Aces will be looking for the left handed wizard to get back to full match fitness and show the rest of Leamington what Hughes and Ferguson already know, that whilst form is temporary, class is permanent!