Warwickshire Coaches Kate Hughes and Ian Ferguson have recently organised some training for our cadet and junior players.
On Sunday 25th September, ten girls from across the county came to Colebridge Table Tennis Club for a three-hour training session. The girls from Colebridge, Lillington Freechurch, Phoenix, Birmingham Table Tennis Academy all worked exceptionally hard, refining their strokes and footwork during regular and irregular drills, as well as working on their service, return and 3rd ball exercises, followed by applying their skills into conditioned games situations.
The ten girls involved in the training were Hanne Chui, Charlotte Wong, Hazel Lam, Monica Chang, Agnes Cheuk Lam, Susie Swan, Mia Chan, Esther Lam, Anya Sompura and Daya Chima.
Thank you to Tom Brocklehurst (Lillington Freechurch) for his support and help with the session.
Several Warwickshire players were involved in Junior British League at Derby Arena, on Saturday 8th October, however another Warwickshire training session took place with six boys and four girls. Once again, this session had a focus on service and return, as well as match play, preparing the players for their forthcoming competitive season.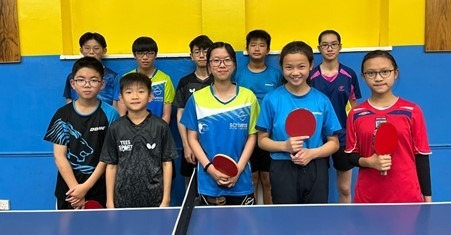 Thank you to Ian Scott for supporting with this session.
It is great to see so many Warwickshire players involved in different competitions around the country, and we wish them all the very best for a successful season. Special thank you to Colebridge TTC for hosting both training sessions.
Kate Hughes & Ian Ferguson (October 2022).