Friday 24th – Sunday 26th June 2022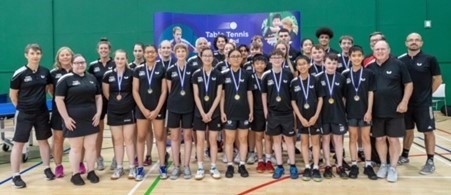 Warwickshire players Nathaniel Saunders and Rex Wong had a successful weekend representing England Schools in the Senior Schools Internationals, taking place in Largs, Scotland.
Despite Nathaniel's flight being cancelled on Friday morning, arrangements were made (slightly last minute) to catch a plane Thursday evening. The cancelled flight did have a positive outcome in that it allowed a visit along with non-playing captains Kate Hughes, Charlotte Spencer and Helen Lower to the World Famous Nardini's ice cream parlour on Friday morning for a little pre-event treat.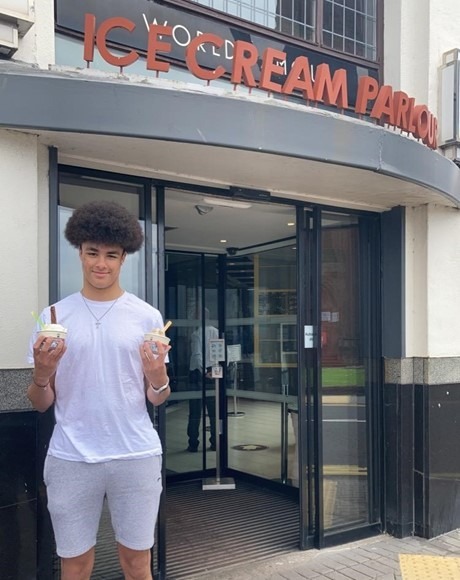 Rex Wong: (under 14 boys)
Team event (England B)
Rex Wong played alongside Leo Nguyen from Devon, and as a team secured first place in their round robin matches with the following results.
Ireland A – won 4-1
Wales – won 5-0
Scotland B – won 5-0
Jersey B – won 5-0
Guernsey A – won 5-0
This meant England B faced the England A team of Abraham Sellado and Max Radiven in the final. Leo and Rex lost the first two singles matches to Max and Abraham respectively. However, as a pair fought back to win the doubles 3-2. Leo then beat Abraham to level the score at 2-2. Rex had a fantastic match against Max, but despite leading 2-1 he lost 9-11 in the fifth set. However, a silver medal was a great achievement and Rex should be very proud of his team performances.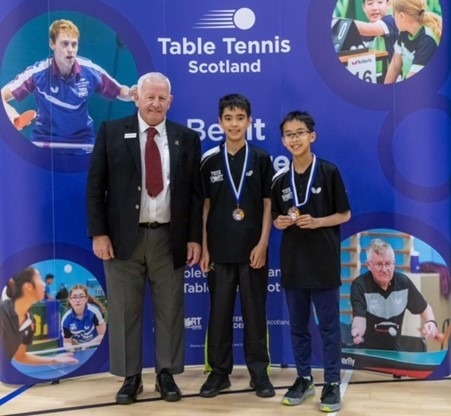 Nathaniel Saunders (under 16 boys)
Team event (England B)
Nathaniel played alongside Joseph Dennison from Lancashire, who trains at Grantham College. In their group matches, the results were as follows:
Ireland A – won 3-2 (this match was particularly important because Ireland were the top seeds in the group. Both boys lost to Jonathan Mooney however, beat Aeden McGivern, and team up to win the crucial doubles).
Scotland A – won 3-2
Jersey – won 5-0
Guernsey – won 5-0
Isle of Man B – won 5-0
In the final, similar to the under 14 event, England B faced the England A comprised of Jake Haygarth and Krish Chotai. Joseph had a great result beating Jake 3-1, but the match was levelled when Nathaniel lost 9-11 in the fifth set to Krish. Nathaniel quickly bounced back from his defeat to play the doubles with Joseph. The B team were 2-0 up in the doubles but let the A team back into the match, taking it to a decider. However, credit to Nathaniel and Joseph for fighting back from 6-10 down in the 5th set to win 12-10 to take a 2-1 lead. Nathaniel then stepped up the gas and demolished Jake Haygarth (the top seed in the singles event) 11-4, 11-4, 11-4 to win the gold medal!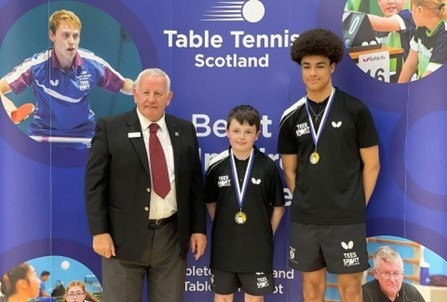 Individual event
In the group stage, Nathaniel comfortably beat Ege Niyazi (Isle of Man) 3-0, but then faced Kieran Walker (Scotland). The match was quite topsy-turvy with Nathaniel being 0-1 down but 2-1 up. However, Kieran fought for every point, giving nothing away, and won11-8 in the fifth set. This meant Nathaniel progressed into the knockout stages as runner up in his group, however faced Jonathan Mooney once again. Despite Nathaniel taking the first set, Mooney, a modern-day defender, won 3-1. The Irish player went on to win the under 16 boys title without losing another set.
Well done to Rex and Nathaniel for a very successful weekend.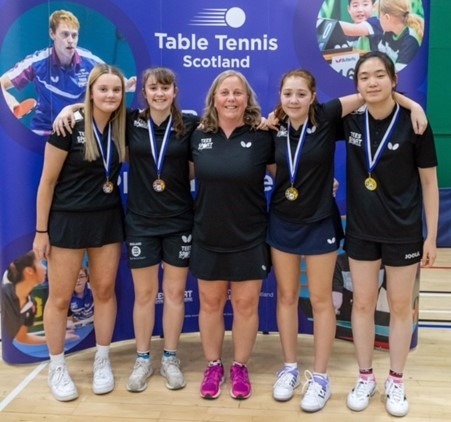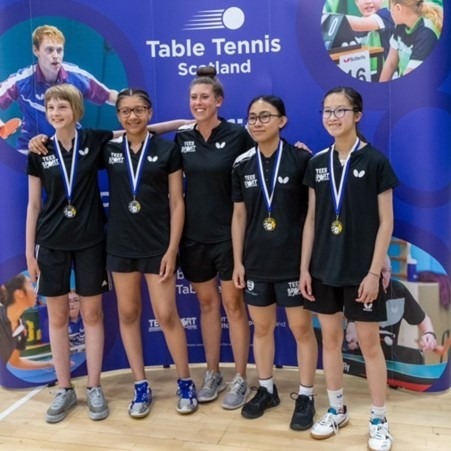 Kate Hughes (June 2022)