Warwickshire players Nathaniel Saunders and Rex Wong have both been selected to represent England in the Senior Schools International Championships taking place on Friday 24th to Sunday 26th June at the Scottish National Sports Centre in Largs.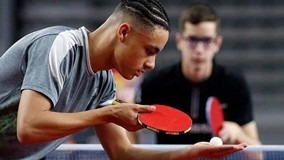 Nathaniel Saunders (pictured above), representing Birmingham Schools, reached the quarter finals of the Under 16 boys event at the National Schools Individual Championships on 2nd April, losing to number 1 seed and event winner Jakub Piwowar. Nathaniel who is part of the England Aspire squad, trains at Colebridge, Nishkam and Draycott as well as attending regular England training camps all around the country. Nathaniel recently took part in the Linz Open in Austria where alongside Jake Haygarth, the junior boys team finished in 5th place. Nathaniel also reached the last 16 of the individual event. Nathaniel has been selected to represent England Schools in the Under 16 boys team.
Rex Wong (pictured below) who trains at Lillington Free Church has been selected for the England Schools Under 14 boys' team, having reached the semi-finals of the under 13 boys' event at the National Schools Individual Championships, where on route he recorded an excellent win beating Kacper Piwowar (the number one seed) in the quarterfinals. This will be a new opportunity and experience for Rex competing at international level.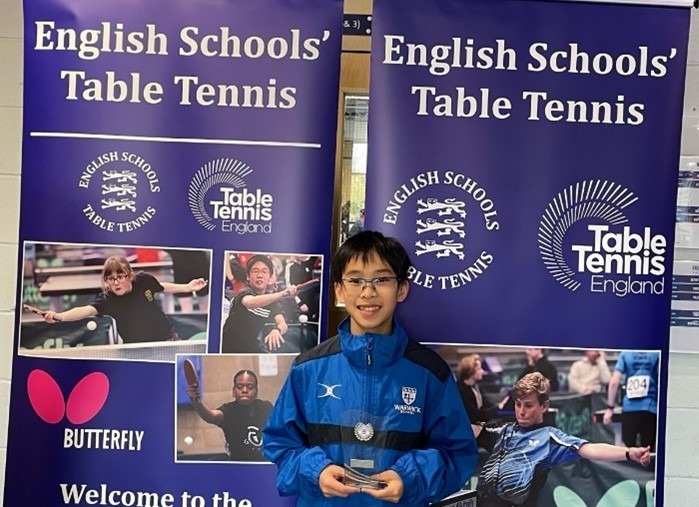 The Senior Schools Internationals involves teams from England, Ireland, Scotland, Wales, Isle of Man, Jersey and Guernsey, with age categories under 14, under 16 and under 18 for both girls and boys.
Kate Hughes (Colebridge) and Charlotte Spencer (Lillington Free Church) will also attend the championships as the respective under 16 girls and under 14 girls non playing captains.
Rex represented the County Cadet team this season, whilst Nathaniel has represented the County Junior team, demonstrating their ongoing success and commitment to the county. Warwickshire would like to wish Nathaniel and Rex all the best with the forthcoming championships in June and are delighted with five representatives at Schools International level this season, following the success of Aarif Li, Rex Ho and Charlotte Wong at the Primary Schools International Championships.