The second weekend of Women's British League took place on 22nd and 23rd January at Aldersley Leisure Village in Wolverhampton.
Colebridge 1: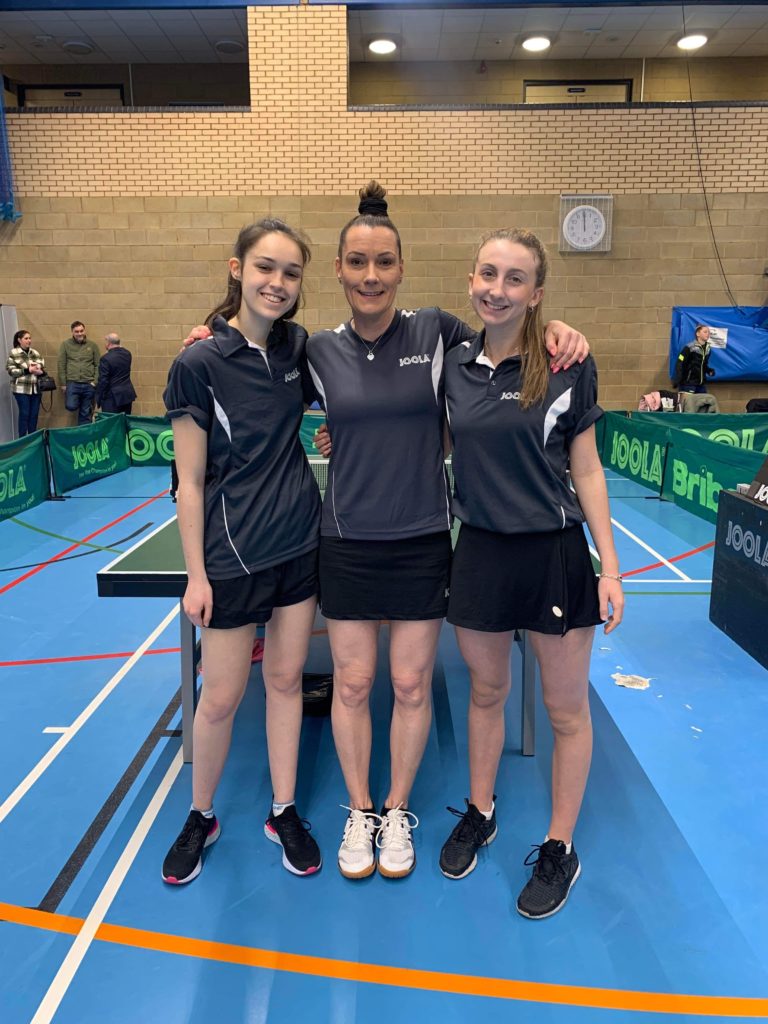 In the Premier Division, Colebridge 1, were represented by Lara Whitton, Sara Williams and Amy Marriott. Unfortunately, Kate Hughes was unable to attend the weekend because she tested positive for Covid-19 two days before. The team were in 4th place at the start of the weekend, 3 points behind Drumchapel Glasgow Ladies, so with all to play for!
Drumchapel Glasgow Ladies: won 4-2
After losing the first two matches (Lara Whitton v Bethany O'Connell and Sara Williams v Alicja Czarnomska), Colebridge won the remaining four matches to secure the win. Amy Marriott beat Lucy Elliott 3-1, Lara Whitton beat Alicja Czarnomska 3-1, Amy Marriott then beat Bethany O'Connell 3-1. The match finished with Sara Williams beating Lucy Elliott 3-0 to secure the win. Amy Marriott was awarded player of the match for her two wins.
Joola Plymouth: drew 3-3
Lois Peake won both her matches against Whitton and Williams 3-0, maintaining her 100% record. Whitton comfortably beat Evie Collier 3-0, however, Collier responded with a 3-1 win against Amy. Amy and Sara both beat Rachel Trevorrow 3-0 to guarantee Colebridge a draw. A great effort against such a strong opposition, who finished as Premier Champions at the end of the weekend.
Fusion: won 4-2
Lara deserved her player of the match award with two excellent 3-2 wins, against Maria Engelson and Elena Todirca. One win each for Amy Marriott against Todirca and Sara Williams against Danielle Kelly secured the team win. Engelson had previously beaten Williams 3-0 and Kelly had beaten Marriott 3-1 for Fusion.
Byng Hall: won 4-2
Amy Marriott was once again player of the match with her two wins against Naomi Jackson 3-2 and Jurate Brazaityte 3-1. Letitia McMullan responded with two wins against Williams (3-2) and Whitton (3-1). Whitton beat Jackson 3-0 and Williams beat Brazaityte 3-0 to guarantee Colebridge the win.
Glenburn Irish Ladies had to withdraw from the weekend, and therefore Colebridge were awarded the win and 2 points. Colebridge 1 finished the weekend in 3rd place, having achieved 13 points in total across both weekends, and look forward to playing in the Premier division once again next season. I would like to say a big thank you to Lara, Amy and Sara for representing Colebridge this season, and all those who supported the team.
Colebridge 2: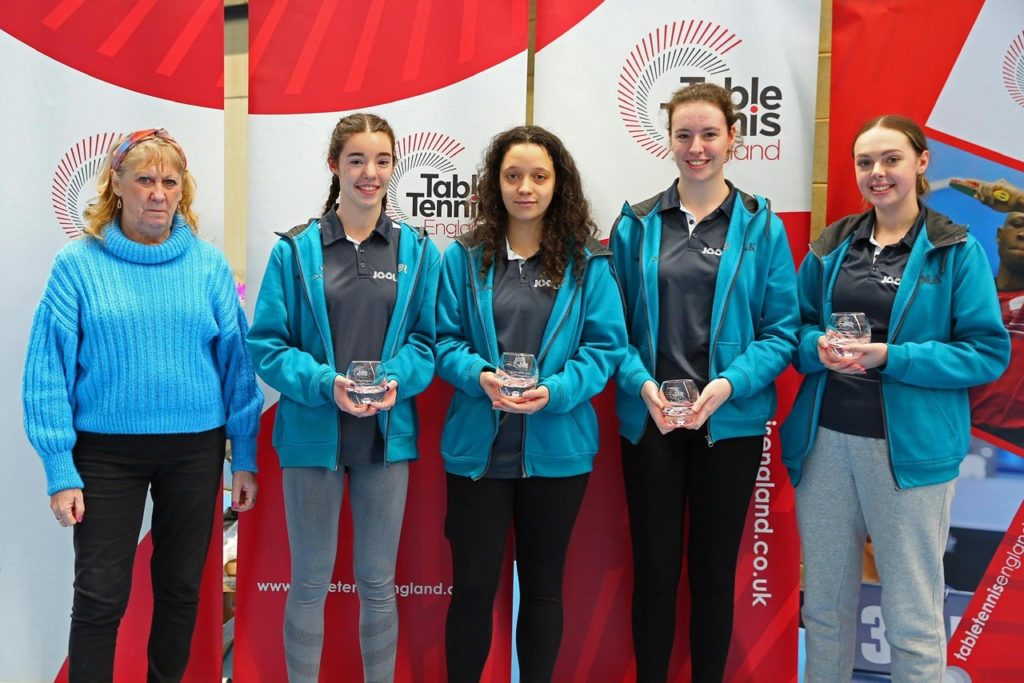 Colebridge 2 were playing in Division 2, and had a full team of Lisa Rinnhofer, Sophie Rinnhofer, Liv Fletcher and Georgia Harris available to play throughout the weekend.
Fulham Brunswick: won 4-2
Colebridge 2 started with a 4-2 win against Fulham Brunswick. Two wins for Liv against Silvia Trenti and Lina Kazimieraityte, along with single wins for each of the Rinnhofer sisters secured the team win. Malgorzata Muda beat Sophie 3-1 and Lisa 3-2 for Fulham Brunswick. Liv was also awarded player of the match.
Fusion 2: lost 2-4
Fusion's Mya Sultan won both her matches 3-1, against Sophie and Liv. Sophie beat Abbie Hurley 3-1, and Liv beat Temeesha Hobbs 3-0. Hurley and Hobbs both beat Georgia to give Fusion the full points, and maintain their position at the top of the division.
NETTS: lost 2-4
Colebridge were on the unfortunate end of their second 2-4 loss. Lisa Rinnhofer secured the two wins against Gracie Edwards and Maria Boulton. Liv lost 2-3 to Edwards and Georgia lost 10-12 in the 5th set to Nikki Kennard, both matches could have gone in either teams' favour.
Brighton TTC: lost 1-5
Brighton TTC had a very successful weekend, achieving 4 wins and 1 draw, on their way to second place. This included a 5-1 win against Colebridge 2. Sophie recorded a 3-2 win against Joelle Bennett.
Dun Laoire Ladies: lost 1-5
The scoreline in the final round of the weekend, does not reflect the true nature of the matches. Sophie beat Tara Fusco 3-1 for Colebridge. Both Lisa and Liv lost close 5-set matches against Sabine Devereux and Claire Heller respectively.
Despite Colebridge 2 finishing in 5th place, and likely to participate in Division 3 next season, the team were awarded 'Team of the Weekend'. This is a very special award nominated by the umpires throughout the whole weekend.
Thank you to Lisa, Sophie, Liv and Georgia for representing Colebridge 2; to Michael and Nicky for their coaching and support.