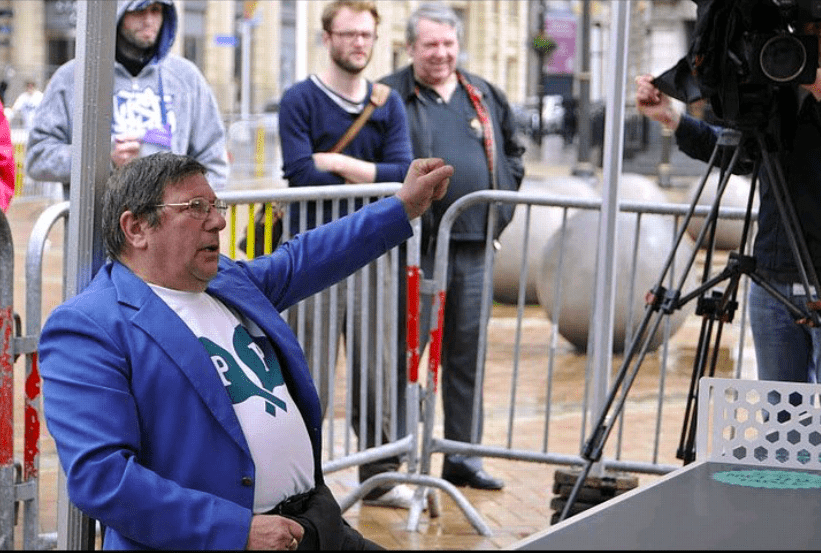 Inky " Stephen " Moss.
COLEBRIDGE'S Mr PING GETS HIS JUST REWARD
The Birmingham Sports Awards are made annually to celebrate and reward the outstanding achievements of the city's exceptional sporting successes in professional and amateur sport. Guess who won the 'Volunteer of the Year' award for 2013? None other than our much loved Chairman, Inky Moss.
Inky received the award at the annual Awards Ceremony at the Edgbaston Cricket Stadium last Thursday for his tireless work in promoting and supporting 'Ping Brum', the month long celebration of casual table tennis on outdoor tables sited in parks and public areas in and around the city. Inky's contribution has been unique and done much to make these events so successful, that they have been held each Summer for the last three years.
Throughout these events, Inky has travelled into the city and visited the parks, almost daily, armed with supplies to replace bats that have gone missing, repair those he found damaged and to replenish the stocks of balls. Advice on where and how to play would also be on offer. That the number of people who played on the tables greatly exceeded those at similar events in other English cities, is largely due to Inky
For our part, Colebridge has rewarded its Chairman by repainting its two playing areas, so that he will feel even more at home when he returns to his umpiring duties, following his forthcoming hip replacement operation, scheduled for 3rd October.
God bless Inky. We all wish you well.