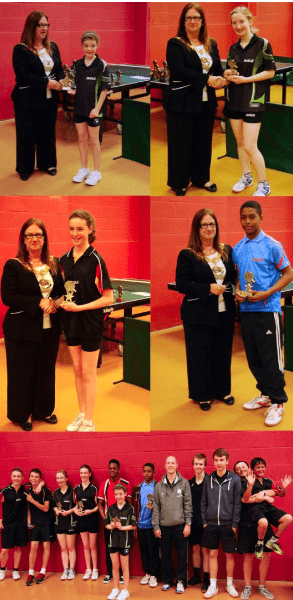 COLEBRIDGE CADETS CLEAN UP IN CHESHIRE – Report by Neil Wheatley
12 of our young members made the journey to Widnes yesterday for the annual Ambition UK (formerly NCYP) Table Tennis Championships and with players in almost every event, we had high hopes of a few titles. We were not disappointed, but it was our under 15s, the girls especially, that stole the show.
The Rinnhofer sisters led the way, Lisa winning the Under 14 Girls title against a strong opponent, producing two flashing counter hits to clinch an 11-9 win in the last game of a very exciting Final. 8 year old Sophie won the Under 12 Plate event in another 5 game nail biter, showing amazing composure for one so young.
At one stage it looked as though Colebridge might also have an Under 12 Girls Singles champion, as Emma Kilpatrick, fought her way to the final in convincing fashion, but there she met a more experienced opponent, whose steady hitting she was unable to match.
Not to be outdone, our high hope for the Under 14 Boys title, Callum Anthrobus, did not let us down. Showing that he too will be a force to be reckoned with in the years to come, Callum sailed through to the Final with some ease and had little difficulty in recording the first of what should be many future titles.
Our top junior Sam Henderson, was unlucky to find himself in the strongest half of the draw in Under 16 Boys Singles, which included two boys with higher ETTA rankings. Having seen off the challenge of the second of the two, Sam found himself up against, Cheshire's Ryan Lumb, with whom he had had several battles in last season's National Junior League. In the day's highest quality match, both players strived to hit off the other. Ryan just clinched the first two games, but Sam came back, levelling with an emphatic 11-3. The final game was close throughout, but at 9-9, Sam just failed to return yet another flashing drive and was then unlucky to lose, when Ryan's next hit caught the net. Ryan went on to win this event.
Dapo Balogun, also made it to a semi-final – of the Under 19 Boys Singles. Here he met James Hunter-Spivey, a junior member of the England Disability team, whose speed and skill at countering the heavy spinning shots thrown at him, despite playing from his wheelchair, proved too much for Dapo.
None of our other boys were able to return with trophies, but the two youngest, Aaryan Deshpande and Charlie Tucki, aged 10 and 11 respectively, won several matches, as did the older ones, Jamie Fellows, Ben Matthews, Sam Minton and Luke Truman, all of whom got through the group stages.
All of our juniors should be congratulated for their excellent behaviour and the support they gave to their team mates. Well done! All of you were a credit to our Club and to Warwickshire Clubs for Young People, whom you were also representing.
I should finish with a special mention for the Colebridge coaches, who are being amply repaid for their long hours of work at the Club. Ed Lynn, in particular on this day, stepped in with the right advice at crucial moments, despite feeling unwell. Also for the parents, Mike, Carolyn and Gig, who helped with the transport, Inky Moss who used his umpiring skills and helped to adjudicate in the Junior Umpire Awards, and for Roy and Evelyn Prosser, who travelled to help cheer everyone on.
Thanks everyone for a great day.
Neil Wheatley.