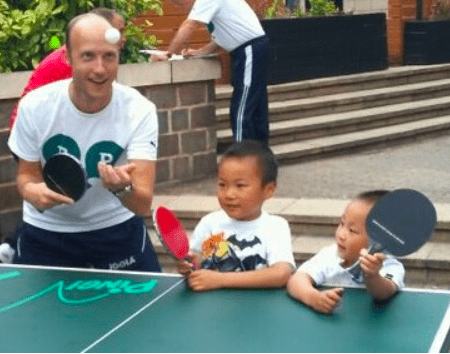 Arriving unannounced and with little fanfare on the B&DTTA website recently has been the addition of the Junior North 2 a side league.
This can largely be attributed to the efforts of Colebridge coach Eddie Lynn , who has been instrumental in the establishment of this new league , the first of its kind in Birmingham for three decades.
In a little over twelve months working for the ETTA , Eddie has been working hard behind the scenes to promote the sport at grass roots level .
The Junior North 2 a side league will soon be expanding to the south of the city , with Colebridge as its base, allowing young players the opportunity to compete against each other , within the framework of a league format.
The new league represents just a fraction of what Eddie has been up to ; he has also coached young players , for both Colebridge and Hamstead ( which is a school and table tennis club in the north of the city , apparently ) who have competed with success in the National Junior League and the Heart of England Cadet League.
Since becoming Birmingham Secretary of ESTTA ( English Schools Table Tennis Association ) he has garnered over 120 school age children , from 14 different schools , to play in the Birmingham Schools Team Championships , an event he both organized and ran.
The tireless Mr. Lynn also coordinated the recent Fred Perry event in Birmingham , which has resulted in two boys and two girls travelling to London on December 3rd for an all expenses paid trip to take part in the Fred Perry Urban Cup , full details of which can be found here http://etta.co.uk/news/test-4/ ., representing Aston Villa against the likes of Manchester United and Chelsea.
Every Friday Eddie coaches a group at Colebridge , he also coaches at Hamstead on other evenings , all of this hard work can only benefit not only the young players involved , but also the sport itself .
Well done Steady Eddie – keep up the good work