Colebridge had three representatives in the National Schools Individual Championships, Charlotte Wong (Warwickshire) in the Under 11 girls, Aarif Li (Warwickshire) in the Under 11 boys, and Nathaniel Saunders (Birmingham) in the Under 16 boys.
The championships took place on Saturday 2nd April at Aldersley Leisure Village, in Wolverhampton for the first time in three years because of the Covid pandemic.
Under 11 Girls
Charlotte Wong won four matches in her group, beating Sophie Grzyowski (Hampshire), Ronja Williamson (Cumbria), Ruby Melero (Suffolk) and Assil Sarri (London West), and lost one match to Catherine Lv (Leicestershire). The match against Sarri decided who progressed to the knockout stages as the group runner-up, so this was an important win for Charlotte.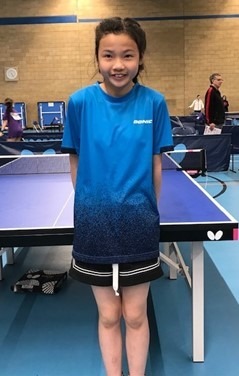 In the first round of the knockout, Charlotte played Lyla Page (Essex) winning 9-11, 13-11, 11-6, 11-7, and then progressed to the quarterfinals where she played Alyssa Nguyen (Devon). Although Charlotte lost this match 0-3 (8-11, 4-11, 6-11), it was great experience to play the number 1 seed, and eventual runner-up. The winner of the under 11 girls' event was Catherine Lv, who Charlotte had played in her initial group.
Charlotte will play along Alyssa and two other girls, representing England Schools in the British Primary Championships on 8-10th April in Guernsey.
Under 11 Boys
Aarif Li dominated his group matches with comfortable wins against Samuel Cook (Cumbria), Sean Koeberg (Hampshire), Ammar Hussein-Lalji (London West), Joshua Smith (Worcestershire) and Daniel Chai (West Yorkshire), progressing to the knockout stages as the group winner. As a seed, Aarif received a bye to the quarter finals where he faced Finlay Howes (Norfolk) who has beaten Li Hao Chen (Lincolnshire) 3-1. Aarif dominated his quarter finals beating Howes 11-3, 11-4, 11-4.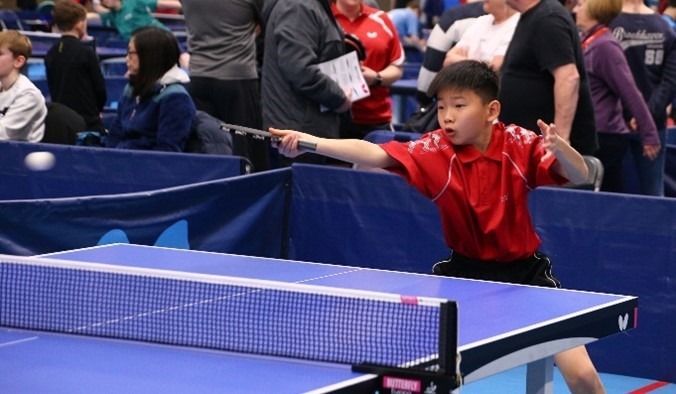 In the semi-finals, Aarif played Theo Kniep (the 4th seed from Berkshire). This match was a little closer with Aarif coming back from 0-1 down to win 3-1 (9-11, 11-6, 11-8, 11-5).
In the final, Aarif faced Pablo Ramirez Rioja (the 2nd seed from Hertfordshire), who had beaten Callum Pace (London South) in the other semi-final. The two boys have played each other on multiple occasions throughout the season, and this final was another great match between the two players.
Pablo was the eventual winner in a slightly topsy-turvy game, winning 11-6, 10-12, 9-11, 11-5, 11-9. Aarif should be exceptionally proud to finish runner-up in the under 11 boys' event. Aarif will also play in Guernsey on 8-10th April, alongside Pablo, Theo, Teagan Khazal, and Rex Ho (also from Colebridge).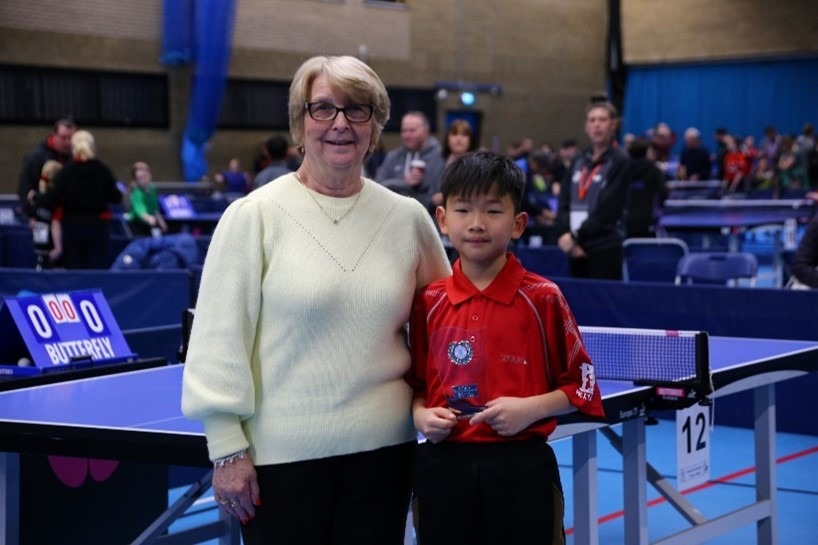 Under 16 Boys
Nathaniel Saunders (representing Birmingham) was also playing in the National Schools Championships (in the Under 16 boys), having won the Birmingham qualifying event.
Nathaniel won his group beating Charlie Davidson (Gloucestershire), Angelos Gidopourus (Durham), Harvey Sandwell (East Sussex) and Frederick Jones (Nottinghamshire), and therefore progressed to the knockout stages.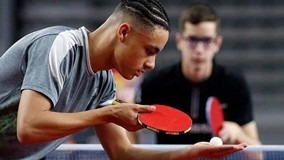 In the round of last 16, Nathaniel played Harvey Gough (Worcestershire) who he comfortably beat 3-0 (11-6, 11-5, 11-7). In the quarterfinals, Nathaniel faced number 1 seed Jakub Piwowar (Devon). Although the match score was 0-3 (9-11, 9-11, 5-11), Nathaniel was neck and neck in the first two games, which could have gone either way. Jakub went on to win the National Schools title.
A big well done to Aarif, Charlotte and Nathaniel.
I would like to thank Inky Moss and Alan Buttle for umpiring throughout the day; Ian Scott for coaching the three Colebridge players; Roy and Evelyn Prosser for coming along to support, and Maggi Reilly (Nathaniel's Mum) for her help with organising Block D events.