Lisa Rinnhofer competed in the Senior National qualifying competition in January at the David Ross Sports Village, University of Nottingham, and secured her place in the Senior National Championships taking place at the end of March.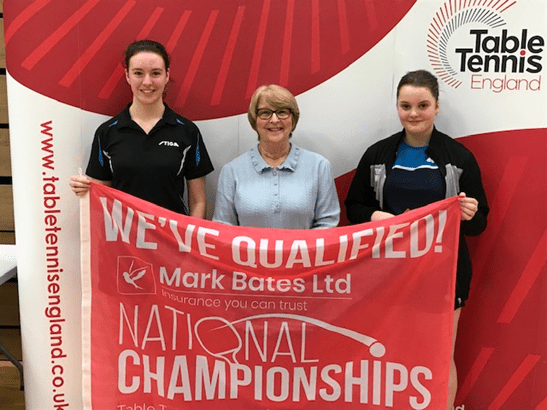 There were 31 women who took part in the event, with a total of 14 places available for the finals.
In the round robin stages, which took place on Saturday 8th January, Lisa won 3/6 matches and finished in 4th place to qualify for the knock out stages.
V Zoe Castle won 11-8, 12-10, 11-2
V Stefania Popa won 13-11, 8-11, 11-9, 11-9
V Eva Eccles won 11-9, 8-11, 11-9, 11-6
V Eve Witterick lost 10-12, 11-8, 15-13, 9-11, 11-13
V Bethany Ellis lost 3-11, 12-10, 7-11, 11-7, 6-11
V Scarlett Anders lost 16-18, 9-11, 6-11
On Sunday 9th January, Lisa stepped up her performance, and played fantastically in the following knockout matches.
V Ella Barnard won 11-8, 6-11, 11-4, 11-7
V Anna Green won 12-10, 11-8, 11-7 (for positions 1-16)
V Stefania Popa won 8-11, 10-12, 11-5, 11-5, 11-8 (for positions 1-8)
V Scarlett Anders lost 6-11, 7-11, 8-11 (for positions 1-4)
V Bethany Ellis lost 9-11, 11-6, 10-12, 7-11 (for positions 3-4)
Lisa finished in 4th position, which was an excellent achievement, having played 11 matches over the weekend. To demonstrate how tough Lisa's initial group was, 3 out of the top 4 players were from Lisa's original round robin group, showing the strength of players that Lisa faced.
Colebridge TTC are exceptionally proud of Lisa's success to qualify for the Senior National Championships, which take place from Friday 25th to Sunday 27th March.
Colebridge coach and fellow Warwickshire team member, Kate Hughes has said; "Lisa has continued to improve in recent years and is now competing successfully in senior competitions. She fully deserves the opportunity to compete in the Senior National Championships, and I wish her all the best in March."