The second weekend of the Women's British League took place at Aldersley Leisure Village, Wolverhampton on 25th and 26th January 2020. Colebridge 1, led by playing captain Kate Hughes, alongside Mari Baldwin, Amy Marriott and Katie Holt, went into the weekend in 3rd place, knowing all was to play for. Colebridge 2, Lisa & Sophie Rinnhofer, Liv Fletcher and Dawn Sagoo were aiming to remain in Division 2 after a tough first weekend.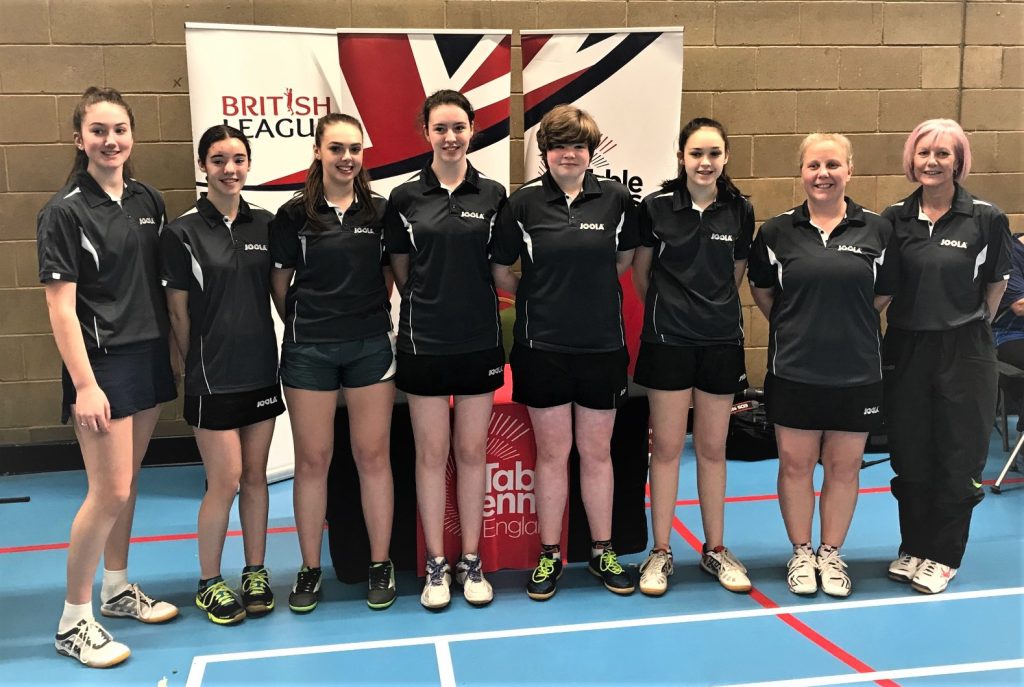 Colebridge 1, proved their position in the Premier Division with a 4-2 win against Fusion. Mari Baldwin won both matches against Welsh Junior International Danielle Kelly and Elena Todirca. Hughes and Marriott, both beat Tianna Dennison; Hughes recording her victory 12-10 in the 5th set in the final match of the tie. The team faced leaders Joola Plymouth, who continued to reign as the top team in the division. Despite single wins from Hughes against Rachel Treverrow and Marriott against Yuki Cresswell, the Joola team won 4-2. The final match on the Saturday was against Glenburn Irish Ladies, and at 0-2 down it looked like Colebridge were going to face an uphill battle. However, the determination and team spirit of the team proved otherwise. Katie Holt recorded two wins against Erin Thompson 3-2, and then demolished Rebecca Finn 3-0 to clinch the win, after Baldwin and Marriott both won their second matches, against Nicole Scott and Thompson respectively. A great 4-2 win against a youthful Irish Team.
Sunday proved another successful day, with Colebridge 1 recording a 4-2 against Draycott. Player captain Hughes recorded a double win against Sarah Short 3-0 and Erin Green 3-1. This was backed up by another double from Baldwin who also beat Short, as well as Bhavika Mistry. The final match against Knighton Park, included games against top England veterans Karen Smith and Lesley Keast, as well as Lorraine Perryman was still a close battle despite the final 6-0 score line. Hughes beat Smith 3-1 and Perryman 3-0. Baldwin beat Keast 3-1 and Smith 3-2. Marriott beat Perryman 3-1 and Keast 3-2 (who sadly had to retire in the last set due to injury).
The team were delighted with their second weekend performances, winning 4 out of 5 matches. Unfortunately, despite beating Fusion, the Colebridge 1st team still finished in 3rd place, due to Fusion having beaten Joola Plymouth in the last match, who has already secured the title. However the Colebridge team were delighted with their position, knowing it secures their place in the Premier Division once again for the 2020-21 season. Hughes said "The team were fantastic both on and off the table. Our aim was to try and avoid relegation at the start of the season, and we have done that with ease finishing in 3rd place, 6 points clear of 4th position, and only 1 point behind second place. For Mari, Amy and Katie it was their first experience of the Premier Division, and they have all done themselves proud. We are all looking forward to playing in this division next year."
Colebridge 2 had a tough weekend. Despite multiple close matches, the Colebridge players struggled to find their consistency in the decisive matches. Joola Plymouth 2 (led by the talented Marketa Myskova) beat Colebridge 2 5-1; Dawn Sagoo recording an excellent win against junior Emily Haskell, keeping her nerve to win 11-9 in the 5th set. Colebridge 2 lost to Halton by the same score line, Liv Fletcher beating Debbie Auvache 3-0. Several of the other matches were lost in the 4th set. Lisa Rinnhofer recorded a 3-2 win against Helena Dicken, in a 1-5 loss to Draycott 2, once again with other losses taking place in the 4th and 5th set. On the Sunday morning Colebridge lost 2-4 to Fulham, with Lisa Rinnhofer and Liv Fletcher both beating Federica Bonato. The final match against Fusion 2 recorded a draw between the two sides, whom would both be relegated for next season no matter the outcome of the match. However, determination to win was still there for the Colebridge team, with Sagoo, Sophie Rinnhofer and Liv Fletcher all winning one match each, to achieve the draw, coming back from 1-3 down. Despite the challenging matches that the team faced, all players had individual success and look forward to the challenges in Division 3 next season.