The Colebridge 1st team in Women's British League made a positive start to their campaign in the Premier Division once again. Captained by Kate Hughes, she was joined by youngsters Mari Baldwin from Devon, Katie Holt from Dorset and Amy Marriott from Rotherham, all who played for Burton Uxbridge 2nd team last season and have now moved up a division to play for Colebridge (who transferred the team over from Burton).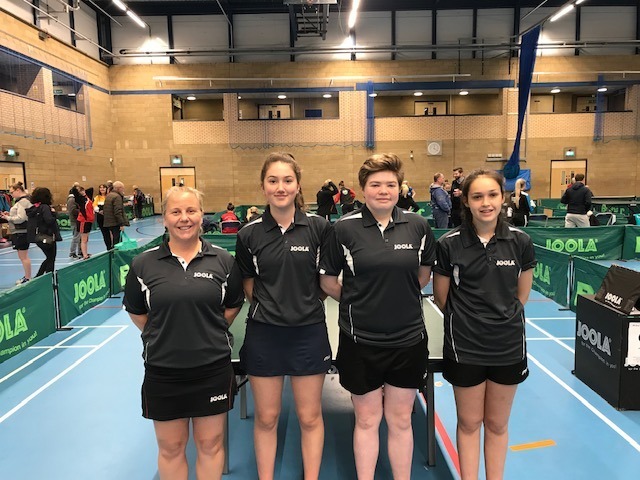 The first match was against Knighton Park, the experienced veteran duo of Karen Smith and Rose Rainton, joined by top junior Anaya Patel. Baldwin started off with a 3-1 win against Patel, which was followed by Smith beating Katie Holt 10-12 in the fifth set, who had gone back from 0-2 down to level the match. Amy Marriott stepped up and beat Rainton 3-0. The next two games could have gone either way. Baldwin beat Smith 12-10 in the 5th set, and Marriott beat Patel 11-8 in the 5th. This guaranteed the win for Colebridge, so with less pressure, and an excellent performance Holt beat Rainton 3-1 to secure a 5-1 team win.
Last years' 3rd place team Fusion was the second match. Colebridge once again had a great start, with Baldwin beating Elena Todirca, a player who had won multiple grand prix banded events over the last 12 months. Baldwin fought back from 1-2 to win 12-10 in the deciding set. Team captain Hughes, then played Danielle Kelly, Welsh Junior International who attends Grantham College Academy. Despite finding herself 1-2 down, Hughes pulled it back to win 8-11, 11-8, 8-11, 11-4, 11-8. This was a great start for Colebridge. Unfortunately, the remaining four matches did not go to plan for the Colebridge team. Tianna Dennison beat both Holt and Baldwin, Todirca beat Hughes and Kelly beat Holt. The overall result was a bit of a shame, but the initial wins were a positive start for the team.
Draycott were the 3rd team of the day. Hughes had a tough first game against England Veteran number 1 Sara Williams and was on the losing end of the match. Baldwin levelled beating Sarah Short 3-1. Another 5 set match between England Cadets Marriott and Erin Green, who had been lifted from the Draycott 2nd team. This proved to be a crucial game, with Marriott saving match points in the 4th set to win 11-8 in the 5th. Hughes stepped up next against Sarah Short, who had beaten her easily a few years ago in County matches. Hughes did not let this phase her and successfully won 11-6, 11-3, 7-11, 11-4. This match was watched by fellow Warwickshire representative Rachel Pilgrim who was encouraging Hughes all the way, having remembered their previous meeting! Marriott had another 5 set match, this time against Williams, where she came back from 0-2 down only to lost 8-11 in the deciding set. A great effort from the 14 year old. Baldwin guaranteed the points by beating Green 3-1.
Sunday's fixtures started with a match against newly promoted Glenburn Irish Ladies. Hughes decided to let the three juniors play in this match, which proved to be a great decision. Baldwin beat Nicole Scott 3-1, but then lost out in a close match to Rebecca Finn 1-3. Holt also lost to Finn 2-3, but responded positively to beat chopper Lucy Craig 3-0. Marriott also beat Craig, but had a brilliant win against Scott winning 6-11, 11-6, 6-11, 11-8, 11-6. Another 4-2 win for the Colebridge team.
The final match was against league leaders Joola Plymouth, comprising of England top 10 players, Lois Peake and Evie Collier, alongside Rachel Treverrow. Despite their valiant efforts, the Colebridge team were outclassed on this occasion. Captain Hughes said "Joola Plymouth are going to be a tough team to beat over the two weekends. They are exceptionally strong. However, I would like to praise the efforts of the girls playing this weekend. They have all been brilliant, both on the table, as well as supporting the team throughout every match. We are in a positive position lying in 3rd place going into the second weekend in January."
The Colebridge 2 team consisting of all Warwickshire players – Lisa & Sophie Rinnhofer, Dawn Sagoo and Olivia Fletcher had a tough weekend, losing unluckily the matches against Halton 2 and Draycott 2 with a 2-4 loss, where lots of matches were lost in tight 5 setters. They managed hard earned draws against Fusion 2 and Fulham Brunswick before losing to league leaders Joola Plymouth 1-5.