Warwickshire Senior 1st County Team 2019
The Warwickshire Senior 1st County team played in Division 1A of the County Championships at Westfield Table Tennis Centre on 5th and 6th October. Regular representatives Paul Lenormand, Adrian Pilgrim and Kate Hughes, were joined by Ben Willson and Lisa Rinnhofer.
The Warwickshire team started with a 9-1 win against Buckinghamshire. Hughes and Rinnhofer both comfortably beat Julie Lawrence and Sue Hayes. Adrian Pilgrim beat Rob Hansell and Steve Munson 3-1. Paul Lenormand beat Alan Cherry's awkward style 3-0, and then fought back from 0-2 down to beat defender Hansell 3-2. Willson lost 2-3 to Munson in his first match despite fighting back to from 0-2 down, to level the score at 2-2. Willson then beat Alan Cherry 11-6 in the 5 th set.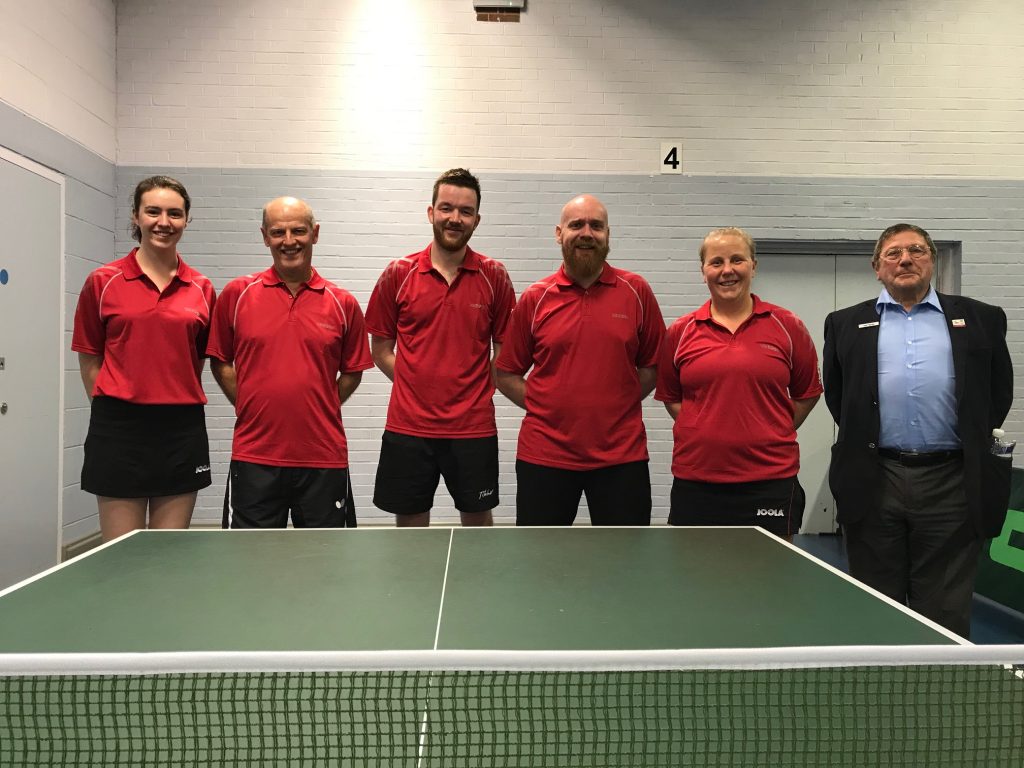 This was followed by a 7-3 win against Bedfordshire. Pilgrim lost in 5 sets to Kieran Smith; similarly Willson lost 2-3 to ex Birmingham player Muhammed Khalid. Hughes lost 1-3 to double pimpled player 1-3. The Lenormand v Smith match, two team mates in SBL for Milton Keynes, was a great spectacle. The Warwickshire player fought back from 1-2 down, to win 11-8 in the 5 th set.
Newly promoted Norfolk were the Bears next opponents. Willson controlled the match against Norfolk's number 2 Chris Cockburn becoming the victor 11-4 in the 5th set. Lenormand continued with his 100% record, by beating both Veton Zeqiri and Andy Hawes 3-0. Hughes and Rinnhofer both beat Cadet Ella Barnard, the former having a 4 set battle. However, the Warwickshire ladies both lost out to England ranked number 5 senior Mollie Patterson, who maintained her 100% over the whole weekend. Adrian Pilgrim beat Cockburn 3-1; however, what proved to be the closest match of the weekend, was Pilgrim v Hawes. Pilgrim came back from 1-2 down to win 11-8, and then 20-18 in the 5 th set. Zeqiri picked up Norfolk's 3 rd successful match through beating Willson 3-1.
Warwickshire's first match on Sunday 6 th October was against Lincolnshire. Despite their best efforts, Hughes and Rinnhofer couldn't match the power and consistency of to England Veteran Lesley Keast, and England Junior Darcie Proud. Hughes lost both matches 1-3, which was a similar result for Rinnhofer against Keast. Lincolnshire's number 2 Mark Donoghue secured the win by beating both Pilgrim and Willson. Lenormand continued his winning record beating Sean Ward and John Hancock. Pilgrim and Willson beat Ward and Hancock respectively. The 4-6 loss was a slightly disappointing result for the Bears.
Determined to bounce back from their first loss; the Warwickshire team beat Cheshire 8-2; double wins for Hughes, Rinnhofer, Lenormand and Willson; including Hughes and Rinnhofer beating England number 18 Rachel Baker, and Lenormand beating Joe Killoran.
This was matched by an 8-2 win against Lancashire. Hughes and Rinnhofer won one match each against Julie Restell, but lost to Beth Farnworth. Double wins once again for Lenormand, Pilgrim and Willson, against Joel Webb, Pawal Orzechowski and Anthony Whelan.
The final match of the weekend was Warwickshire against Leicestershire, both teams who were unfortunately relegated from the Premier division in the 2018-19 season. This match proved to be decisive in the team securing promotion for next season. Warwickshire needed a draw to guarantee promotion whereby Leicestershire needed to win their final match. The first two matches were shared, with top veteran Chris Rogers beating Willson 3-0, and Lenormand beating George Briskolas 3-0. Hughes comfortably beat Daria Dzierbicka 3-0, followed by an excellent patient win for Lisa Rinnhofer against Karen Smith 3-1. This put the Bears 3-1 up. Pilgrim was unlucky losing to ex England Junior Jared Patel 1-3, and Willson losing 11-7, 12-10, 10-12, 4-11, 7-11 to Briskolas; levelling the match score at 3-3. Rinnhofer was unlucky to lose the first set 20-22 to Dzierbicka and the match 0-3. Hughes had a topsy-turvy match against Karen Smith, saving match points in the 4 th set, to win 11-7, 1-11, 10-12, 13-11, 11-8. As the same time Lenormand was battling it out against Patel. The match was a fantastic game to watch; a clear demonstration of attacking and counter-attacking shots. Patel was the victor on this occasion 8-11, 11-9, 9-11, 8-11, 5-11. Rogers withstood the final battled from Pilgrim 3-1 giving Leicestershire the win (6-4) they needed to secure promotion back to the Premier Division.
Despite the disappointment of not getting the draw against Leicestershire, they were very pleased with their overall performances and results over the weekend. Special thank you to Mike Browne for his support as our corner coach; as well as support from Rugby's Sarah James and Rachel Pilgrim.
Adrian Pilgrim: 8/14 wins
Paul Lenormand: 13/14 wins
Ben Willson: 8/14 wins
Kate Hughes: 9/14 wins
Lisa Rinnhofer: 9/14 wins