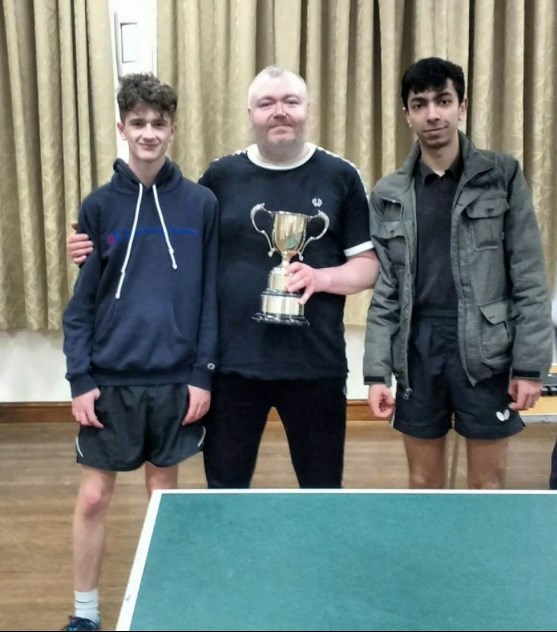 With victory of their opponents, Barnt Green Aces, in a recent Division 1 league match and having eliminated the Division's top team, Barnt Green, in an earlier round, Colebridge Tomahawks were clear favourites to win the Clement Bros Cup Final at Bentley on Wednesday evening. The Colebridge team of Awais Muhammed, Rod Lewis and Jake Crawshaw duly delivered, but were somewhat flattered by the 7-2 score. 13 of the 37 games played finished 11-9 or more, with just two 3-0 results.
Aces included Alistair Broadbent, in place of their injured defensive star, Pat McCabe, but he was unable to make any impression upon the Colebridge trio. On the other hand, his team mates, Craig Allen and Russell Duncan, were determined to more than compensate, with the result that all present were treated to a fine display of attacking table tennis, with lots of close games.
Craig gained some consolation by inflicting a rare defeat upon Individual Champion, Awais in 5 games and he just managed to edge out Jake, in another set that went the distance, but he found Rod's range of attacking shots behind wickedly spun services, too hot to handle.
Rod was clearly the 'Man of the Match', but his set against Russell could hardly have been closer, as the 9-11, 11-9, 11-9, 12-10 score clearly shows.
Particularly encouraging for Colebridge was the fine form of junior, Jake Crawshaw, who surprised everyone with his all round play and tenacity, amply demonstrated by his 11-13, 11-4, 14-11, 10-12, 11-7 defeat of Russell.
report by Neil Wheatley