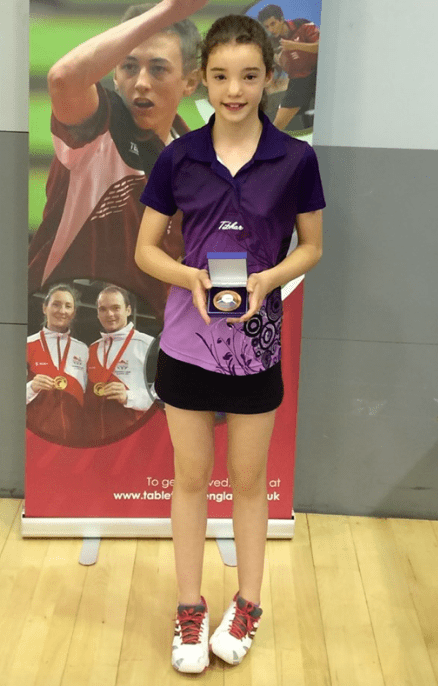 On Sunday 7th June, Sophie Rinnhofer (Colebridge) took part in the Under 11 and Under 12 National Championships at Ponds Forge Leisure Centre in Sheffield.
Sophie won two matches in her group in the Under 12 Event on Sunday morning, and then lost to the Number 1 seed, and eventual champion, Jasmin Wong in the last 16 round.
However, the highlight of her day, was that she reached the semi-finals of the Under 11 Championships. She beat Helena Dicken in the last 16 round, 11-8, 11-4, 15-13, she then beat Isabel Webb 3-1 (7-11, 15-13, 11-8, 11-4) in the quarter finals. Sophie had beaten Webb in the group events of the Under 12 event earlier in the day. In the semi finals, Sophie then faced number one seed Ruby Chan. Sophie lost 0-3 to Chan, who also went on to win the Under 11 National title, and had previously finished runner up in the Under 12 event.

Sophie has been training more regularly over the last few years, at Colebridge, as well as Regional sessions at Wood Green. Sophie is a regular in the National Cadet League team for Colebridge, and competes in many regional and county events. A huge congratulations to Sophie on a fantastic achievement. Well done!